U.S. Corporate Team Building Locations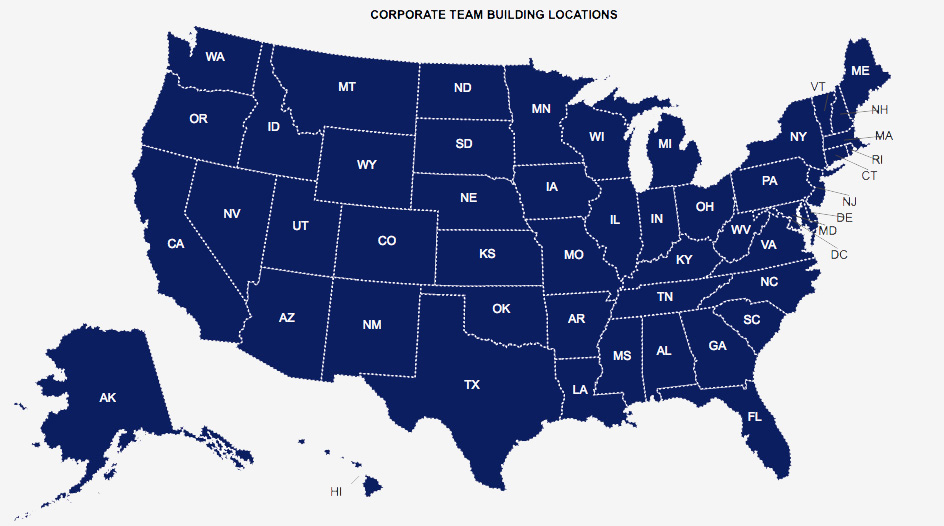 We have event sites and exceptional facilitators, trainers and staff in most cities throughout the United States.
Many of our most senior leaders, skilled facilitators & expert trainers are based in Los Angeles, New York, Chicago, Houston, Washington DC, Atlanta, Miami, Dallas, San Francisco, Boston, Orlando, San Diego and Las Vegas.
We also have senior staff, staff, and staff assistants in or near virtually every major city and event destination across the entire United States.
And, yes, we are also happy to come to you anywhere on the planet.
Call, email or chat with us so we can help you create the most extraordinary corporate team building activity you can imagine!
Alabama Corporate Team Building Locations
Alaska Corporate Team Building Locations
Arizona Corporate Team Building Locations
Arkansas Corporate Team Building Locations
California Corporate Team Building Locations
Colorado Corporate Team Building Locations
Connecticut Corporate Team Building Locations
Delaware Corporate Team Building Locations
Florida Corporate Team Building Locations
Georgia Corporate Team Building Locations
Hawaii Corporate Team Building Locations
Idaho Corporate Team Building Locations
Illinois Corporate Team Building Locations
Indiana Corporate Team Building Locations
Iowa Corporate Team Building Locations
Kansas Corporate Team Building Locations
Kentucky Corporate Team Building Locations
Louisiana Corporate Team Building Locations
Maine Corporate Team Building Locations
Maryland Corporate Team Building Locations
Massachusetts Corporate Team Building Locations
Michigan Corporate Team Building Locations
Minnesota Corporate Team Building Locations
Mississippi Corporate Team Building Locations
Missouri Corporate Team Building Locations
Montana Corporate Team Building Locations
Nebraska Corporate Team Building Locations
Nevada Corporate Team Building Locations
New Hampshire Corporate Team Building Locations
New Jersey Corporate Team Building Locations
New Mexico Corporate Team Building Locations
New York Corporate Team Building Locations
North Carolina Corporate Team Building Locations
North Dakota Corporate Team Building Locations
Ohio Corporate Team Building Locations
Oklahoma Corporate Team Building Locations
Oregon Corporate Team Building Locations
Pennsylvania Corporate Team Building Locations
Rhode Island Corporate Team Building Locations
South Carolina Corporate Team Building Locations
South Dakota Corporate Team Building Locations
Tennessee Corporate Team Building Locations
Texas Corporate Team Building Locations
Utah Corporate Team Building Locations
Vermont Corporate Team Building Locations
Virginia Corporate Team Building Locations
Washington Corporate Team Building Locations
West Virginia Corporate Team Building Locations
Wisconsin Corporate Team Building Locations
Wyoming Corporate Team Building Locations
Washington DC Corporate Team Building Locations
Puerto Rico Corporate Team Building Locations