Professional Teambuilding provides you the most powerful, results-oriented, content driven teambuilding, leadership, communication, motivation and strategic planning seminars, events, activities & workshops. Click here for seminar topics.
For more than 25 years, our approach has been a unique & powerful combination of information, activities and excitement.
Facilitators are hand picked for their intelligence, experience, energy, creativity and focus. These articulate individuals are dedicated to one outcome - results!
Click for a list of very happy clients & references. We provide you with the tools, technology and ability to maximize your most valuable resource - your people.
LEADERSHIP & EXPERT FACILITATION

Prepare to experience one of the most powerful events imaginable, through the leadership provided by our founder, CEO and most senior facilitator, trainer and consultant, Alan Lowis.
 Our vision and leadership emanates from a lifetime dedicated to discovering and mastering the keys to human performance. By seeking and finding the blueprint for all human thought, feeling and behavior, extraordinary and strategic results in all areas of life & business become not just possible, but achievable.
Highly Educated Expert on Human Performance

Alan has completed Degrees in Economics and Business from UCLA, holds a Masters in Psychology at Pepperdine University's Graduate School of Education & Psychology and has earned a Juris Doctorate from The Law School at the University of Chicago. His studies also include comprehensive research in the areas of Organizational Behavior, The Psychology of Change and Cognitive Neuroscience as well as Metaphysics, Theology, and Philosophy, having read more than a 1,300,000 pages covering all aspects of the human condition.
Leader with Extensive Real World Experience

Alan's extensive education is matched with has broad-ranging experience producing real world results. Early in his career he served as a Fortune 500 corporate attorney, specializing in complex litigation for clients including Boeing, McDonald's and Sears. He has spearheaded, built and sold successful entrepreneurial endeavors including a print media and web publishing force that positively impacts the lives of 1.5 million parents and children. In the past two decades, he has founded/co-founded and built companies from the ground up that together have generated in excess of a third of a billion dollars.
Top Motivational Speaker & Senior Master Facilitator

He has presented and led more than 2800 lectures, seminars, workshops and interactive programs on topics including motivation, teamwork, leadership, workplace morale, sales, marketing, and communication. He has served as a business consultant focusing on issues including process analysis, conflict resolution, emotional intelligence and customer relationship management.
Champion for our Children's Future

He has guided the growth and development of children and teens through philanthropic endeavors and partnerships with camps, schools and government agencies including the California Department of Juvenile Corrections and the Department of Child & Family Services. Our True Leadership™ Youth & Teen programs are creating opportunity and teaching skills & tools to help the next generation build a brighter and better future across America and around the world.
Expert & Pioneer in Emotional Intelligence, Positive & Peak Performance Psychology


Through comprehensive research and extensive practical experience he has distilled, refined and simplified the keys to communication, emotion, behavior, fulfillment and achievement. By studying excellence and success we can understand how to replicate it and consistently achieve it.
Philanthropic Leader

Through the Alan Lowis Foundation, a non-profit 501(c)(3) public charity, the tools, technologies and teachings Alan has developed are used to dramatically change the lives of thousands of people each year. At personal growth and empowerment events provided regardless of ability to pay, we help individuals free themselves from depression, anxiety and other challenges as well as helping participants find more passion, meaning and purpose in their lives. Through XO Platinum Partners, an elite member-only peer group, he is also dedicated to completing meaningful and powerful humanitarian projects that make an impact on people across the globe.
World Class Trainer


Through our corporate consulting and training divisions, Alan is a trusted trainer and advisor to companies (including Johnson & Johnson, AT&T, Universal and more), professional & collegiate sports teams (including NHL Teams, NFL Teams, Collegiate Teams and more), military & government agencies (United States Armed Forces, Nationwide Police & Fire Departments, City Governments and more), non-profits and other small & mid-sized organizations throughout the United States and across the globe. Click to see what clients and references have to say. He has trained tens of thousands of sales people to influence with integrity, to consistently exceed their goals, and to drive previously unimaginable results on a continuing basis.
Trusted Business and Strategic Advisor / Coach / Counselor

Another important focus for Alan is working one-on-one with CEO's, Senior Executives, Senior Managers, High Potential Leaders at Fortune 500 Companies, Entrepreneurs in small and mid-cap organizations, and High Net Worth Individuals seeking strategic advice, guidance and counsel on business and life issues, challenges and opportunities.
His leadership, dedication and wisdom have helped more than a third of a million people learn to work together and achieve at levels that were previously unreachable. Alan will inspire and motivate you and your team to think and act in ways that guarantee better communication, greater efficiency and higher productivity.  He will empower and challenge you to unleash the unlimited potential within you and use it to create extraordinary real world results.
Senior Strategic Consultants

Pat received her advanced education in England and served as Senior Advisor to executives in the Aerospace and Finance industries before moving to the United States where she continues to work in Finance as well having significant experience and expertise in the areas of asset/resource allocation, human capital management and urban economics.

Sabro holds a BA from UCLA as well as an MA in Educational Leadership. With his focus on youth & teens, he has spent much of his career working in the school environment as Assistant Principal, Dean of Students, Athletic Director, Resource Specialist, as well as designing programming and working directly with kids in Moderate-Severe- Special Education.

Dan's expertise is in sales and sales management. He earned his BA in Business from the University of Wisconsin at Madison and then invested years developing his expertise in customer relationship management. His focus over the past 10 years has been on hiring, training and managing sales forces and developing marketing systems designed to geometrically increase revenues and productivity.

Audrey holds her BA & MA in Communications. Her corporate career has included varied and pivotal roles in the areas of marketing, online marketing and management with companies including KCET, Knott's and Universal Studios. She specializes in helping IT teams learn to work effectively and efficiently together and communicate effectively with the varied other departments they connect with.

Elizabeth holds her BA in Economics & International Relations from Boston University as well as her MBA in Marketing Management from Depaul University.  At UBS Investment Bank, she spent significant time in Singapore and other overseas markets rolling out online and ecommerce platforms and then successfully led her North American Team through multiple post merger integrations.  She served as Visiting Professor of Marketing at Loyola University before dedicating herself to managing a REIT and becoming on of our top trainers and team facilitators.  
Office / Accounting / Marketing Team
Exceptional Event Facilitators & Staff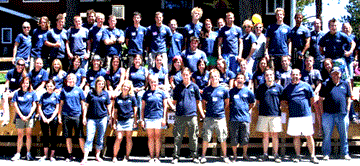 Our team is dedicated to providing you the highest quality experience designed to produce results! We achieve this by creating an environment where you, the participant, will truly learn.
This means creating an environment of comfort and trust.
It means creating an environment of fun and excitement. It means requiring that you fully participate in activities designed to challenge you mentally, physically and emotionally. It means pushing the limits of your comfort zone.
It means challenging you to be creative. It means allowing you to discover first hand insights that will dramatically change the way you think and feel. It means providing you opportunities to experience thoughts, sensations and emotions that will improve the way you connect and communicate with people. It means guiding you through a carefully choreographed series of intense experiences that will create dramatic improvements in your abilities and measurable results in your business.