The Great Team Adventure™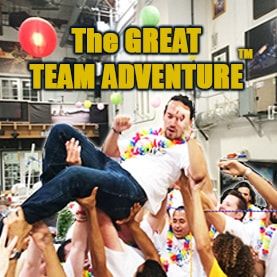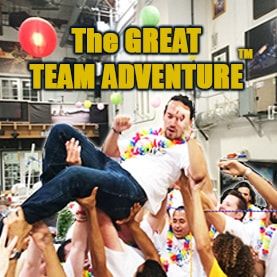 The Great Team Adventure™ is a unique team building activity which can be customized to meet many of your team goals at any venue, indoors or outdoors. It can include traditional low ropes course challenges as well as our customized "doing the impossible" team challenges. Because it can be done indoors, it is one of the most popular choices for teams looking for exciting hands on challenges that can be brought to you.
It is hands on, activity based fun where your team must go over, around or through obstacles in challenges designed to test your creativity, teamwork and trust as well as your ability to overcome obstacles.
Your event will begin with an engaging opening ceremony to start the event with excitement and fun. Your team will progress through a series of introductory activities that are fast paced and highly interactive.
Then come the "doing the impossible" team challenges. You will work together as a team to overcome physical obstacles, solve problems and achieve team goals while having fun and learning powerful tools and skills that will translate into results when you return to work.
Activities will be physically engaging, exciting, interesting & challenging and can include "Team Escape From The Tangled Web™", "You Must Save the World – Island Escape™", "The Journey of Ultimate Trust™" and more. We will adjust the intensity level for your team's specific needs and goals.
This event will be powerful, challenging and designed to create a lasting impact on each team member as well as the team as a whole.
At the culmination of your event, you and your team will come together for a celebration of all you achieved and all of the bonds you have created. The Great Team Adventure™ is a classic and longstanding favorite workshop among highly satisfied clients.