Unleashing The Fire Within™
Corporate Firewalk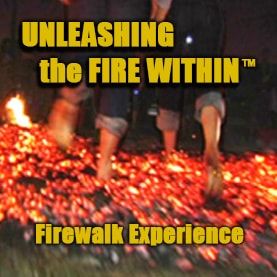 The Corporate Firewalk Experience™ is The Ultimate Team Building & Leadership Experience. Your corporate "firewalking" event will include an opportunity for each of your team members to personally storm across a real bed of red-hot coals and learning that you are unstoppable.
The "firewalk" serves as the highlight of our most powerful and results driven corporate team building seminars, team building workshops and team building events.
The firewalk is an unforgettable motivational experience your team will talk about for years to come.
Imagine what your team will accomplish after literally walking through fire together!
In addition to gaining a more powerful sense of focus, strength, determination, trust, courage, and connection, how much can your team benefit from better:
• communication
• motivation
• creativity
• teamwork
• morale
• efficiency
• productivity
• profitability
Once you have done the "impossible" there are no limits to what you and your team will achieve.
Join more than half a million people who have safely "firewalked" across the coals.
Learn that every barrier gives way, every obstacle can be overcome and every challenge has a solution.
Become an unstoppable team!