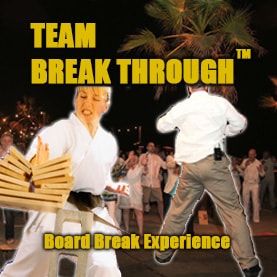 Team Break Through™ is one of the most powerful, unique and exciting motivational, teambuilding & leadership experiences imaginable. Your event will be entertaining, engaging, empowering and most of all designed to produce powerful and lasting results.
Your event will include a number of "challenge" activities where your team will actually learn that you can do the "impossible."
Your team "challenge activities" include:
The Board Break Experience™
Break through a solid wooden board with your bare hands. Participants ranging from age 6 to age 93 have successfully accomplished this metaphorical "break through" process. Your team will learn that there is no barrier to unlimited success with the right tools and focus.
Team Break Through Extreme - Flaming Boards™
Imagine the thrill & excitement of the Board Break Through Experience™ with the added challenge of fire. Become unstoppable as you learn that no barrier can prevent you from achieving your most important goals. Click here to see more.
The Glass Walk Experience™
Learn to master the skills of powerful awareness and focus as you personally walk safely across a sea of broken glass shards. Glass walking is a powerful way to learn and apply tools and techniques that can be applied in all areas of business and life.
The Arrow Break Experience™
Imagine placing the tip of an arrow directly against the soft tissue located a few millimeters above the trachea at the base of your throat. Then imagine summoning the focus, energy and courage to decide to walk forward directly into the arrow. With our expert guidance, you and your team will shatter the arrows as well as any and all barriers that prevent you from achieving all of your goals!
The Bar-Bending Experience™
Imagine placing the tip of a length of steel rebar (yes, the kind used in concrete reinforcement) against the base of your throat. At the other end is another member of your team. Using our direction and guidance you will literally bend the steel as you come together confirming that, with the right focus and working in unison, anything is possible.
(please do not attempt any of these activities without our expert instruction)
By overcoming these formidable challenges, you and your team will learn that every barrier gives way, every obstacle can be overcome and every challenge has a solution.
Once you have done the 'impossible' there are no limits to what you and your team will achieve.